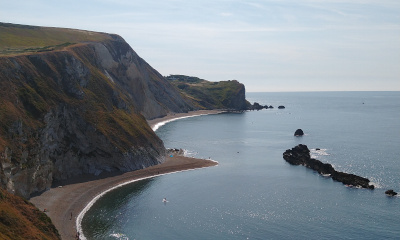 When someone says "English beach" you don't really picture anything that great. Grey skies. Grey sand (at best). Grey water. A lot of people not really dressed for the beach at all. I'd been told that the Jurassic Coast was beautiful, and, along with my preconceived ideas I (internally) pffff'd and mostly dismissed the idea of swimming in the UK.
But then I remembered that I would need a July swim to complete my swim-every-month-in-2022 challenge. So, caution to the wind and those sorts of things, I decided to head to Durdle Door as early as possible to avoid the crowds. £5 to park for 4 hours – they sure know how to make it difficult for poor people to do things in the UK.
Anyway. I followed the path down, and down, and down, past the views of white chalk cliffs, down the rocky path, then down the worn wooden steps and onto the san….pebbles. They were oval, smooth pebbles. Apparently walking barefoot on pebbles is a good way of improving health (it's called tap shek) – so consider my health improved!
There is a very striking arch in the water at Durdle Door Beach – the arch is the namesake for the beach. Durdle Door.
The water was clear and a beautiful blue. There was a slight swell, but nothing significant. No wind. The sun was out.
I dove in to the instantly deep water (the coarser the sand on the beach, the steeper the beach) and started swimming for the arch. The water was refreshing, especially after suffering through the 40℃ heatwave in London. A shower doesn't have the same refreshing power as a swim in the ocean after a hot day.
I reached the arch, swimming through it on my back, looking up the whole time, watching the perspective change. It felt special. Magical. Like I'd gone through a portal to another land. Swimming back through the portal, I was worried I'd go back through to the place I'd come from, but I stayed in the magical place where I'd been through Durdle Door.
If you ever get to the Jurassic Coast, and the weather is Just So, I heartily recommend swimming through the portal to another land.